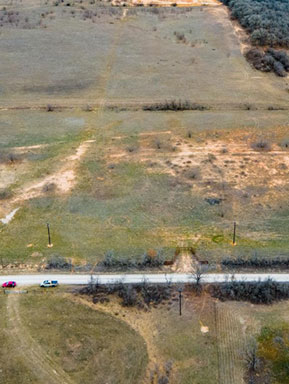 TBD CR 471, De Leon, TX 76444
Everyone wants a few acres in the Texas hill country for a reasonable price yet convenient to amenities. This 13 acre parcel of raw land boasts pasture, some trees and multiple building sites. Location is important and you are minutes to De Leon and Comanche, convenient to Stephenville and easily accessible to DFW for day trips. Comanche County is a destination of choice for reasonable taxes and embracing the Texas life style. Once you enter through the wood and metal gate, the property presents a blank canvas. This is Texas and you have choices. See the survey.
Choose to hunt here on the weekends, build your hill country home or hold as an investment. The parcel is protected with gentle deed restrictions, including prohibiting mobile homes greater than 20 years of age and feed lots. The soil is desirable Chaney and Demona loamy sand which is rated for moderate farming. Information is deemed reliable; however, buyer should perform due diligence. Graphic boundary lines are approximate.
$149,000
See location map:

551 Pilgrims Rest, Pecan Gap, TX
Everyone wants a modern farmhouse, on a few acres, with a water view and a solar system... your search is over and better yet it is in reasonably taxed Delta County and a short drive to the new Lake Ralph Hall. The value will attract you. Enter this 5.4 acre parcel through a metal automated gate. The park-like setting, complete with pecan and fruit trees, a fenced dog run and a lake view, will make you want to stay outside. However, once you step inside, you will want to put down roots. See the survey.
The design boasts functionality with the primary bedroom downstairs and 3 bedrooms with a media room or office, and loft upstairs. The kitchen, complete with a wood burning fireplace, sunroom and vaulted great room, with a wet bar, sets the stage for life, growth and entertaining. Since electricity is so cheap, the owner will appreciate the paid in full solar system. The Tesla wall charger is negotiable. Information is deemed reliable; however, buyer is encouraged to perform due diligence.
$649,000
See location map:

"The Brooks Ranch"
6202 CR 1133, Leonard, TX 75452
Look at the panoramic views surrounding this 132+ acre working red angus ranch located in Leonard, TX USA. This is a blank slate to build, ranch, hunt or develop. Hunt county is a destination for gentle taxes and accessibility to Dallas, Sherman and Greenville. This parcel is suited for development, with about 2600 ft of asphalt frontage, existing utilities, AG exemption and no deed restrictions. The 50x80 barn with 30 ft overhang is ready for your equipment. The ranch is fenced, cross fenced, has an active creek running on the back of property and 3 stocked tanks. An abundant whitetail deer population calls this property home. See Survey 1 and Survey 2.
Soil is primarily desirable Tin clay strata which is rated for moderate farming. Eastern boundary is bordered by the Clymer Meadow Nature Conservancy. The existing brick home on property has negligible value and is not structurally sound, the value is in the land. Information deemed reliable, buyer should perform due diligence. Boundary lines approximate.
$2,400,000
See location map:

"The Gilby Ranch"
535 CR1101, Celeste, TX 75423
Welcome home Dutton family to this 34.24 acre parcel that has no deed restrictions, is AG exempt and boasts what may be the highest point in Hunt County. Enjoy sweeping panoramic views and a deep crystal clear, nearly 3 acre pond, with a gazebo and abundant fish. Bring your animals as the property is fenced and cross fenced. The barn is 45x45 with water, septic and electric. There is an overlooking build site with electric, septic, water and poured footer. Enjoy the native deer and wildlife, adjacent Chaparral Trail and convenience to downtown Farmersville.
The property boasts Crockett Loam and Ferris Heiden Complex soil which is rated for moderate farming. Information deemed reliable; however, Buyer should perform due diligence. Boundary graphics are approximate.
$849,000
See location map:

FM 36, Farmersville, TX
This prime 3.29 acre Farmersville development parcel is located on FM 36 adjacent to the intersection at FM 2194 in Merit. This area is experiencing tremendous growth with a recently opened Dollar General and multiple new subdivisions. This unincorporated parcel with no Deed Restrictions and water and electric at the street is positioned to capitalize on the commercial potential of the 36 & 2194 corner as there are no other businesses in the immediate area.
Hunt County Subdivision platting has been completed. A septic system will be required and engineering studies may be needed. Information is deemed reliable but buyer should perform due diligence.
$499,000
See location map: