We Choose To Walk This Real Estate Journey With You!
Anyone who knows Travis and Bonnie Hunt will tell you they are accomplished local realtors who really know their stuff. If you need to sell a property, find land to retire on, gather hard-to-find details on a unique piece of land, or get a complex deal finalized, the Hunts can do it! But you can also say that about a lot of North Texas realtors. So where Travis and Bonnie's greatness lies is in their humanity, commitment to community, uncanny ability to connect with people, and passion for land and life.
For these reasons and so many more, a growing number of individuals and families from McKinney to Farmersville, Greenville, and all points in between continue to turn to them for honest advice and a real estate transaction done right.

Travis and Bonnie Hunt
The Texan Team
---
Travis and Bonnie have traveled an interesting road to becoming your favorite local realtors
Bonnie earned her Bachelor of Science degree and became a registered nurse. But she ultimately found her true calling as a realtor, first in Ohio while managing her family's real estate investment portfolio and now in Texas. Overall, she has over 15 years of experience and prides herself on a no-pressure demeanor and offering sound advice to successfully bring buyers and sellers together to achieve their unique goals.
Travis was an active-duty uniformed service officer for 25 years and rose to the rank of Commander. Before returning to Texas in 2018 for his final duty, Travis purchased, developed, and operated a 50-acre whitetail deer hunting ranch in Ohio with his lovely wife. He has a Master in Public Health degree and is an avid hunter and award-winning outdoor writer. He has pursued whitetail deer, axis, predators, and exotics in various locations in North America. Travis became a realtor in 2020 and already has extensive knowledge of land development, land values, mineral rights negotiation, water and onsite sewage, wildlife habitat creation, and agricultural tax values. Simply put, he appreciates the pride of property stewardship because he lives the lifestyle. He is a certified Military Relocation Professional (MRP), a member of the Outdoor Writers of Ohio, and a member of the Quality Deer Management Association.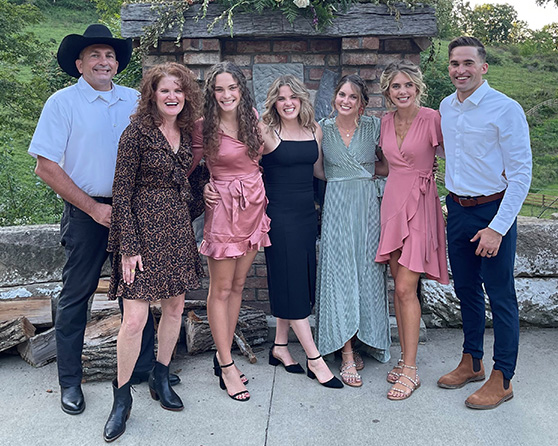 Travis and Bonnie have five children and have been happily married for almost 28 years. Their son is a U.S. Army Captain currently stationed in Maryland, while their four daughters (Lauren, Leia, Lucia and Liliana Rose) call Texas home. Bonnie and Travis agree that their children are their greatest accomplishment; however, real estate is their passion.
They have been Texas residents since 1997 but have been stationed throughout the country.
To provide the most efficient real estate transactions and attention to their client's needs, Travis and Bonnie formed
The Texan Team
. They are proud to call Farmersville, Texas, home and own a 40-acre ranch in Merit, Texas. Their priorities will always be their Christian faith and family. They take pride in Texas and look forward to partnering with you to achieve your Texas real estate goals.
You can reach
The Texan Team
at
Travis: (740) 381-3622 or Bonnie: (740) 381-3626
, via E-mail to
[email protected]
, or at texanteam.com.
My experience with Travis and Bonnie Hunt was excellent from start to finish. They were very knowledgeable and efficient in answering all of my questions They provided a relaxed and enjoyable experience during the selling of my property Travis and Bonnie kept me updated and informed of all matters concerning the selling process. They were both in attendance during the closing process, and made sure that all paperwork was properly done and accurate for closing Travis and Bonnie Hunt were professional, caring, and very respectful in all aspects of selling my property. I would highly recommend Travis and Bonnie Hunt for selling and or buying a home. Thank you both SO much for being there and making my experience so wonderful and easy I plan to keep in touch and tell everyone I know just how truly wonderful you both are.
Bonnie and Travis have done an outstanding job in helping us in the sale of our land in Farmersvi!le, TX, and the follow-up purchase of new land in Whitesboro, TX to build a new home. It was through their outstanding network, i.e., developers, banks, title companY, ability to negotiate, that made our experience amazing. Thanks, Bonnie and Travis, for making our dreams come true!
More Reasons to trust The Texan Team
We know what it's like to move around
Being a Veteran family, we know what it's like to move around. We think about the entire relocation process, including schools, churches, hospitals, and even the closest grocery store.
We love all aspects of real estate
Sure, we love to talk about land. But that's not all we do as realtors. We look forward to working with first time homebuyers, investors, developers, clients who are downsizing, and clients who need help finding the perfect Texas ranch.
Honesty is our middle name
We aren't focused on the mighty dollar. We care about what makes sense for you and your family — regardless of what stage of life you're in. We hang our hat on honesty and transparency, even if it means we talk you out of a deal.
We are community-focused
The mark of a genuine and successful realtor is someone who lives and breathes with the communities they represent. The Texan Team is a staunch supporter of initiatives such as Wreaths Across America and other entities that benefit first responders and Veterans.
Veteran-Owned and Operated
We are proud members of the Texas Veterans Land Board and are a certified Military Relocation Professional (MRP). We also work closely with Veterans to help them buy land or refinance.